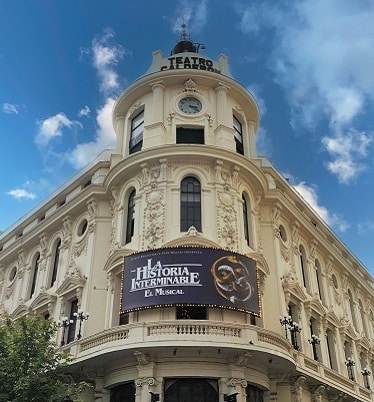 Calle de Atocha, 18 28012 Madrid
map
91 429 40 85
programacion@somproduce.com
With address at Calle Atocha 18, Madrid, it was opened in June 1917 under the name Teatro Odeón.
Built on site of the now disappeared convent of the Trinitarians it was designed by the architect Eduardo Sánchez Eznarriaga. Inspired by the best tradition of Italian theatrical architecture, the painting that decorates the vault of the enclosure was the work of the Leonese artist Demetrio Monteserín and the exquisite stained glass windows that illuminate the lobby are the work of Casa Maumejean.
Since August 2015, SOM Produce manages the completely renewed Teatro Calderón. The first show of this new era being Stomp, followed by La Gran Ilusión by El Mago pop, Europe's most successful Illusionist. It later hosted a new blockbuster of the classic musical West Side Story.
It has been the home for such shows as The Hole, La familia Addams , Adió Arturo, by La Cubana or La Última Tourné.
Major artists, such as Joaquín Cortés or Sara Baras have also performed in its stage. At the same time, the venue is a reference for live music in the city of Madrid.
In October 2023, The Book of Mormon will be released, the great reference musical comedy that has been sweeping Broadway and London for more than a decade.
The Teatro Calderón comprises a large stage and auditorium with a 1.000 seating capacity, rehearsal room and cafeteria. The building offers every accessibility option with disability ramps to ensure all access. Its exceptional technical endowment allows great quality and complex productions.
The venue offers snacks and drinks services on the ground floor with two bars offering refreshments at the auditorium entrance.
BOX OFFICE SCHEDULE
Martes, miércoles y jueves de 16:00 a 20:30h
Viernes de 15:30h a 21:00h
Sábados de 12:00 a 14:30h y de 15:30h a 21:00h
Domingo de 12:00 a 14:30h y de 15:30 a 19:00h
*Los horarios de taquilla pueden variar según la programación del teatro.
Telephone: 91 429 40 85
DIRECTIONS
Metro: Tirso de Molina (Línea 1), Sol (Línea 1, 2 y 3, C-3 y C-4), Antón Martín (Línea 1).
Autobuses EMT: M1, 50, 6, 26, 32, 65, N26.
Parkings: Plaza de Jacinto Benavente s/n, Calle de los relatores 1, Calle de Atocha 10, Calle del Doctor Cortezo 10, Plaza de Santa Ana s/n, Calle de Atocha 70.