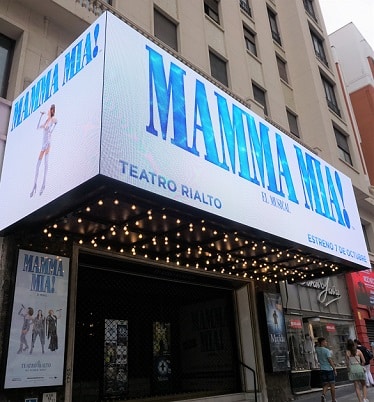 Gran Vía, 54 28013 Madrid
map
91 083 95 00
programacion@somproduce.com
The Teatro Rialto was built between 1926 and 1930, by architects José de Aragón and José María Mendoza Ussía and founded by Antonio Ramos Espejo in 1930 as the Rialto Cinema (between 1932 and 1934 it was called Cine Astoria) and is located at number 54 of the Gran Vía in Madrid.
The first picture released was Variedades from Paramount and it had the honour of hosting the opening night release for El último cuplé, featuring the late Sara Montiel, motion picture that would shatter all records at the time, transforming The Teatro Rialto cinema into a reference point in the Gran Vía. This movie theatre would also play American musical comedies, foreseeing its future as a venue for major musical theatre productions. In fact, its first release just after its transformation into a Theatrical venue, was the Spanish musical Hoy No Me Puedo Levantar, a major hit and still to date the most successful Spanish Musical play ever.
Since such a promising start, the venue has homed a plethora of Major shows, such as Enamorados anónimos, 40 El Musical, Cabaret and most recently 2 seasons of Nada es Imposible by Antonio Díaz, EL Mago Pop (Europe´s best illusionist).
The Teatro Rialto has also hosted non musical plays such as Sé infiel y no mires con quién, Buena Gente y La función que sale mal while at the same time positioning itself as a reference space for live music. In the 2021-22 season, the Teatro Rialto has hosted "Sombras" by Sara Baras, "Full Monty El Musical", "Antoine" and "Los Morancos". At the end of the year, in October, a new production of Mamma Mia will be released.
Teatro Rialto has a large stage, a seating capacity of more than 1.000 seats, rehearsal room and a cafeteria. It has all the necessary access facilities so that anyone can enjoy our space such as stairlifts and direct access ramps.
Its exceptional technical endowment allows it to offer shows of great quality and complexity.
Cafeteria and bar services
The venue has drink and snacks services at the entrance and mezzanine levels.
2 bars provide service also at the stalls area. The cafeteria is located at the mezzanine floor, at the same level as the Club entrances.
Organise your events at Teatro Rialto
Teatro Rialto is the best option for any event or concert happening at Madrid's symbolic Gran Vía street.
From company events, private celebrations, to caterings, press conferences, presentations, private shows, space rentals or movie shootings…whatever your needs, the Teatro Rialto great adaptability, altogether with its technical and human resources will be at your service to make it a success.
The Teatro Rialto technical infrastructure meets the requirements needed by any event or performance, offering you the latest technology in sound and lighting equipment, digital controls, moving heads, lifting systems, fifty counterbalanced poles and direct load/download stage access.
CATERING
We put at your disposal all our infrastructure, human and catering equipment, to make your company event a success.
BOX OFFICE SCHEDULE
Closed until September.
Telephone: 91 083 95 00
DIRECTIONS
Metro: Santo Domingo (Línea 2), Callao (Líneas 3 y 5), Gran Vía (Líneas 1 y 5) y Plaza de España (Líneas 3 y 10).
Autobuses EMT: Líneas 1, 2, 44, 75, 148, 46, 133, 202, 147, 74.
Parkings: Flor Baja 3 , Tudescos 6 , Plaza de los Mostenses , Soledad Torres Acostas 2 , Plaza de Las Descalzas s/n, Plaza del Carmen s/n.